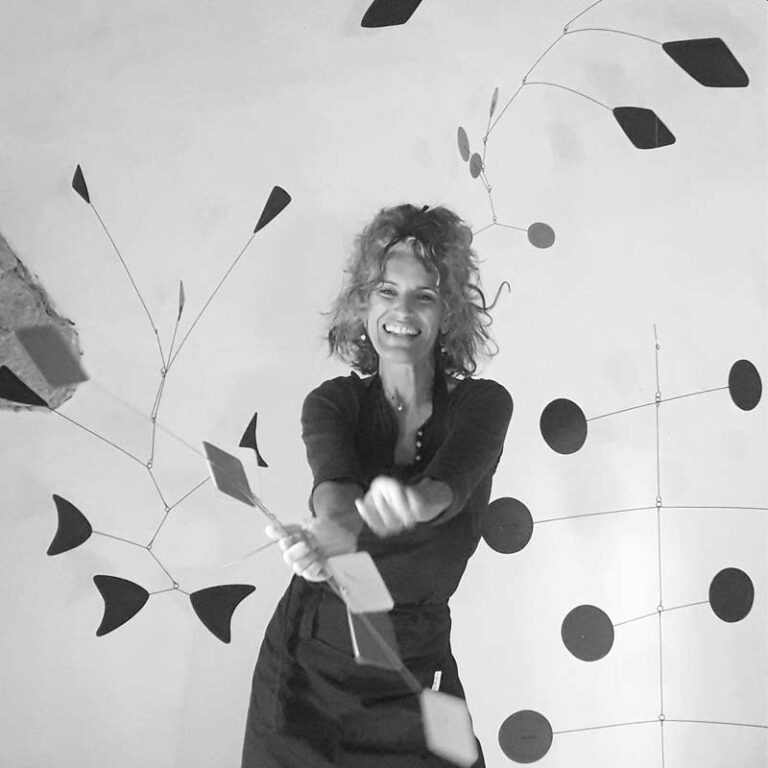 Judit spent most of her childhood summers in her grandparents' ceramics and painting studio, attached to the family's country house on the Mediterranean coast, south of Barcelona. She has always marvelled at the colourful shapes and objects created in this space, and this experience marks the origin of her creative sensibility.
She has devoted 17 years of her professional life to the design sector, working in marketing for Spanish design companies such as Mobles 114 (furniture and accessories for the home and community) and Nanimarquina (contemporary carpets and textiles), both based in Barcelon
After a long private interlude in the form of a 10-year round-the-world sailing trip, she moved to Mallorca, where the SOLITO project was born. 
Her passion for hanging mobiles led Judit to create them for her own pleasure, first for her home, then for a few friends. Little by little, her project took shape and she created SOLITO. 
Captivated by the gentle, soothing movement of mobiles, Judit enjoys creating and balancing each one by hand and contemplating them as they float in the air, moving and creating infinite shapes.
Handcrafted to a high standard of finish
Les mobiles SOLITO sont fabriqués à la main
Un style unique et original